A unique dip moulding process is carried out at Shraddha Dip Moulding Products for PVC dip moulding handle grips.
We offer a wide range of custom designed PVC dip moulding products and components including protection caps, long caps, grab tap caps, sleeves, E-Z tab caps, dip coatings, square caps, bellows, square end caps and many more.
Dip moulding technique is essential for economical production of flexible, semi rigid PVC components. We ensure the best grip technology for Dip moulded PVC grips. These dip moulded handle grips are generally used at general engineering, electrical and automotive industries.
Dip Moulded PVC Grips as per Custom Requirements
The dip moulded PVC grips resist daily tear and wear and this makes it's a highly regarded PVC component. The PVC moulded grips including Dip Moulded PVC Handle Grip, Dip Moulded Grips with Long Caps, Dip Moulding Handle Grip, PVC Dip Moulding, PVC Dip Moulding and Caps, Custom Dip Moulding are offered in dimensions and colours as per the custom requirements of the esteemed clients. Besides the grips provide a lot of benefits like ease of handling, environmental resistance and are in stock at best prices.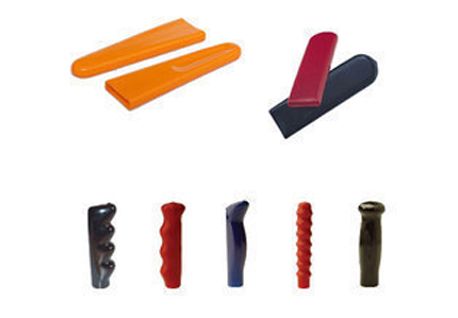 Dip Moulded Component
Dip Moulded Grips
Dip Moulded Plastic Handle Grips
Dip Moulded Grips with Long Caps
Dip Moulding Handle Grip
PVC Dip Moulding
PVC Dip Moulding and Caps
Custom Dip Moulding
Dip Moulded PVC Grip products are used in following industries