Providing you the best range of PVC Rectangular Cap, Angle Caps, Rubber Short Caps, PVC Wire Harness Cap, PVC Battery Terminal Caps and Grab Tab PVC Caps with effective & timely delivery.
We offer a wide variety of reliable, cost effective PVC plastic caps and other dip moulded PVC products. These dip moulded products are available with us in various diameters, lengths, colors, textures and chemical formulations. The diameter of these dip moulded PVC plastic caps ranges between 0.062 and 5.5000 with excellent moulding capability up to 20" diameter and 24" long. We use more than 100 varieties of pigments to color these caps with textures like high gloss, matte and foam finishes ensuring your custom requirements. High temperature resistance, anti stat (ESD), copper non staining and flame resistance are some of the ideal features of dip moulded PVC caps.
The Precision Dip Moulded PVC Coating
We ensure that the product ideas quickly enter from the prototypes to production in the market at really affordable costs. The In-house engineering of PVC dip coating at Shraddha Dip moulding Products provide innovative solutions to all coating needs and add a wide range of finish and texture to wide range of products including PVC Rectangular Cap, PVC Angle Caps, Rubber Short Caps, PVC Soft Cap, Cable end cap, PVC shroud, E-Z Tab Plastic Caps, PVC Wire Harness Cap, PVC Battery Terminal Caps, Grab Tab PVC Caps and many more.. The dip moulded PVC manufacturers ensure a minimal waste mechanism while maintaining a solid gripping power, impact resistance, vibration damping, and much more.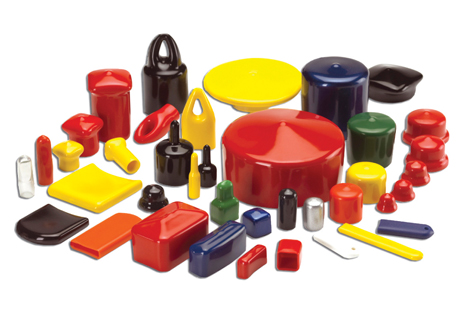 Dip Moulded Vinyl Caps
PVC Angle Caps
PVC Rectangular Caps
PVC Battery Terminal Caps
PVC Dip Moulded Caps
PVC Grab Tab Caps
PVC Soft Caps
PVC Wire Harness Caps
Rubber Short Caps
E-Z Tab Plastic Caps
Dip Moulded PVC Coating products are used in following industries