We offer a wide variety of reliable, cost effective PVC plastic caps and other dip moulded PVC products.
These dip moulded products are available with us in various diameters, lengths, colors, textures and chemical formulations. The diameter of these dip moulded PVC plastic caps ranges between 0.062 and 5.5000 with excellent moulding capability up to 20" diameter and 24" long. We use more than 100 varieties of pigments to color these caps with textures like high gloss, matte and foam finishes ensuring your custom requirements. High temperature resistance, anti stat (ESD), copper non staining and flame resistance are some of the ideal features of dip moulded PVC caps.
Dip Moulded PVC Caps for Bulk Supply and Export
The dip moulded PVC caps can be made of varying lengths with no tooling charge. Additionally, the material stretches to fit any odd shape and can be easily conformed to tubes without the risk of cracking or splitting. Dip moulding is an interesting technique for pvc caps especially for larger volumes of PVC Banjo Cap, Dip Moulding Black PVC Pipe End Cap, Plastic Moulded, PVC Caps Multicolor/Coating, Cable end cap, Dip Moulded PVC Battery Terminal Caps, Silicone And PVC Dip Moulding and we as one of the leading Dip moulded PVC cap manufacturers export it in volumes owing to its long and stress-free life.
Cable End Caps
The cable end caps are available in different colours and size. You can purchase them in bulk quantities, however. When it comes to durability, cable end caps are at the top of the list. The process of applying this type of end cap is easy and hassle-free. First, you need to ensure that the cable or wire is clean and free of any debris. Then, you simply apply the heat shrink end cap over the exposed end. This type of end cap is among the most durable types of cable and wire end caps. Cable End Caps are designed to prevent water ingress. They are compatible with most commonly used cable jackets and rubber sheathed cable. They also provide a permanent seal on irregular cable sheaths. They are designed to withstand the effects of environmental conditions, including high voltage and moisture. These end caps are an economical way to protect cables from water and other damage.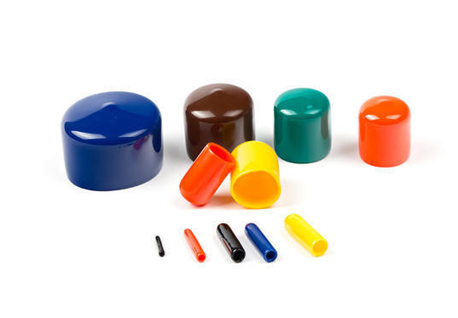 Dip Moulded PVC Banjo Cap
Dip Moulding Black PVC Pipe End Cap
Plastic Moulded
Dip Moulded PVC Caps Multicolor
Dip Moulded PVC Coating
Dip Moulded PVC Battery Terminal Caps
Silicone And PVC Dip Moulding
Dip Moulded PVC Cap products are used in following industries